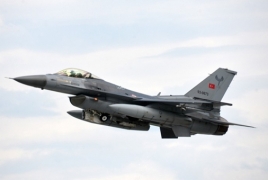 October 9, 2020 - 12:33 AMT
PanARMENIAN.Net - Azerbaijani President Ilham Aliyev has admitted Turkish F-16 jets are stationed in his country amid heavy fighting along the Nagorno-Karabakh line of contact.
Aliyev made the comments in an interview with CNN, amid mounting evidence of Turkey's involvement in the conflict and, specifically, in Azerbaijan's recent aggression against Karabakh. The Armenian side has already published evidence of the the movement of the Turkish F-16s.
Although Aliyev denied their participation in fighting, one of the Turkish warplanes did shoot down an Armenian Su-25 jet in Armenian airspace on September 29, killing the pilot, the Armenian Defense Ministry reported back then.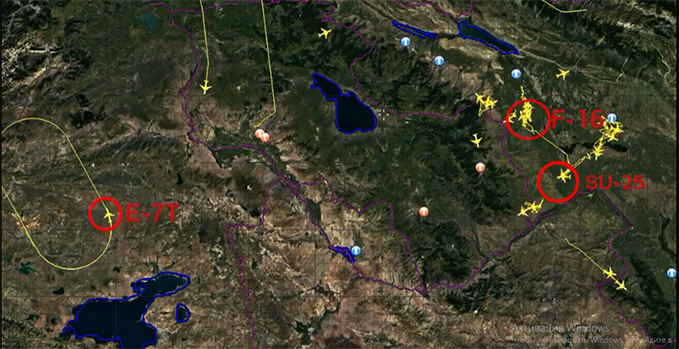 The Azeri President did not provide an explanation as to why the Turkish jets would stay in Azerbaijan after joint military drills if they weren't going to participate in hostilities.
The Turkish F-16 jets had taken off from Ganja airport in Azerbaijan as Su-25 bombers and Turkish-made Bayraktar drones were pounding civilian settlements and positions in both Armenia and Karabakh.
A New York Times analysis of an October 3 satellite image provided further evidence that there were at least two F-16s at Ganja Airport in Azerbaijan.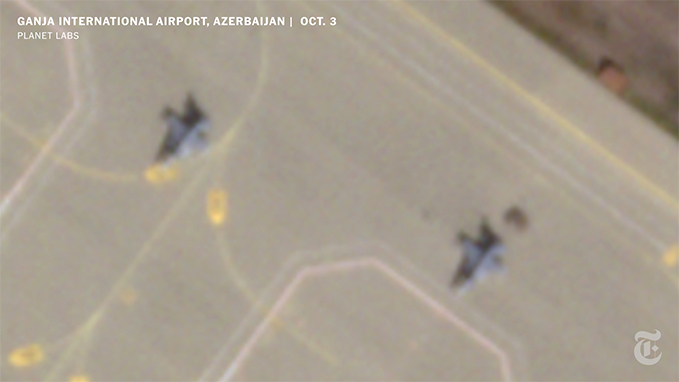 The image also featured a larger aircraft on the Ganja apron, which is likely to be a CASA/IPTN CN-235 transport aircraft, also used by the Turkish Air Force.
Azerbaijan, with help from Turkey, launched a large-scale offensive against Karabakh (Artsakh) in the morning of September 27, shelling Armenian positions and civilian settlements with large caliber weapons and rocket systems. Armenia and Karabakh have introduced martial law and total mobilization. The Armenian side has reported deaths and injuries both among the civilian population and the military. International and local journalists too have been injured in Azeri shelling of towns and villages.
Donations can be made to Hayastan All-Armenian Fund, which has launched a fundraising campaign to support Karabakh amid Azerbaijan's aggression.