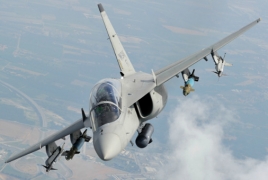 October 14, 2020 - 17:41 AMT
PanARMENIAN.Net - Leonardo S.p.A., an Italian company specialising in aerospace, defence and security, is planning to deliver M-346FA (Fighter Attack) jets to an international customer, most probably to Azerbaijan.
During a visit to Italy in February, Azerbaijani President Ilham Aliyev and company representatives signed a deal on the acquisition of M-346 combat jet trainer aircraft.
Christiaan Triebert, the journalist who confirmed that Turkish F-16s were stationed in Ganja airport, bumped into Azerbaijanis' efforts to prove that the aircraft depicted on a satellite image are Italian fighter jets. However, Trieber not only refuted those arguments with a photo analysis, but also got confirmation from a Leonardo representative that the jets have not been delivered to Azerbaijan and no such shipment is planned for 2021.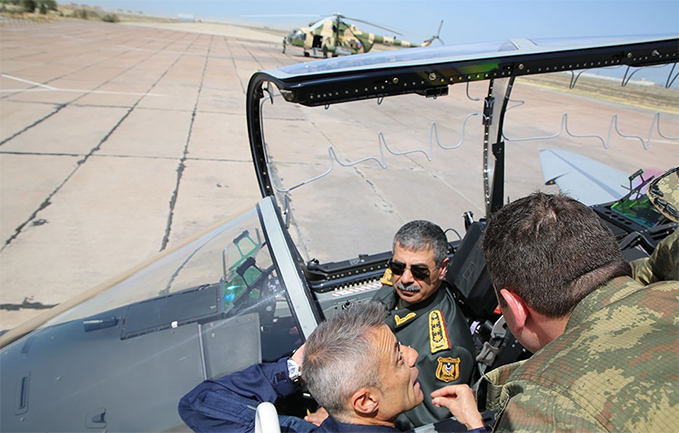 Azerbaijan's Defense Minister Zakir Hasanov in the cockpit of an M-346 military trainer jet.
Azerbaijan is planning to buy the fighter attack variant of M-346 jets.
According to Leonardo's General Manager Lucio Valerio Cioffi, the fighter jet maintains all the features of the M-346AJT (Advanced Jet Trainer) version, at the same time serving as an efficient light attack jet equipped with a multi-mode fire-control radar and precision sensors. The fighter jets are designed to strike specific targets on the ground.
It is beyond doubt that if Azerbaijan acquires the Italian jets, it will use them to target not only Nagorno-Karabakh's military objects but also civilian populations living in the conflict zone.
Since September 27 – the first day of the war unleashed by Baku – the Azerbaijani artillery and air force are shelling Artsakh's civilian settlements, with the use of forbidden cluster munitions confirmed by Amnesty International as well. About 30 civilians have already been killed so far.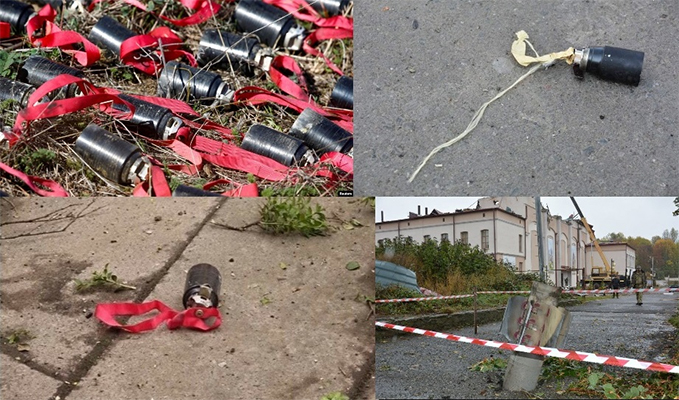 Around 700 unexploded bomblets have been found in Stepanakert alone. Karabakh sappers are in the process of rendering them safe.
Cluster bombs fired with the use of air force or missile and artillery systems are prohibited not only by humanitarian law, but also under the Convention on Cluster Munitions.
By selling these jets, NATO member Italy will strengthen the armed forces of Azerbaijan, a country that is committing war crimes against peaceful civilians.
Canada, another NATO member state, has suspended arms export licences for shipments to Ankara after Turkish weapons were used against Armenians in Nagorno-Karabakh: some vital parts of Bayraktar attack drones are produced in Canada.
Azerbaijan, with help from Turkey and mercenaries deployed by Ankara, launched a large-scale offensive against Karabakh (Artsakh) in the morning of September 27, shelling Armenian positions and civilian settlements with large caliber weapons and rocket systems. The Armenian side has reported deaths and injuries both among the civilian population and the military. Foreign and local journalists too have been injured in Azeri shelling of towns and villages. Although a humanitarian ceasefire was supposed to begin on October 10, Azerbaijan has renewed hostilities along the line of contact.