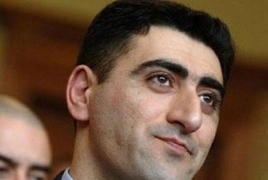 October 14, 2020 - 18:41 AMT
PanARMENIAN.Net - The historic ruling of the European Court of Human Rights (ECHR) on Azerbaijan's anti-Armenian policy is now final and unbreakable, Siranush Sahakyan, the representative of the petitioners' interests in the case "Makuchyan and Minasyan v. Azerbaijan and Hungary", said on Facebook Wednesday, October 14.
The ECHR ruled on May 26 that Azerbaijan has failed to enforce prison sentence for an ethnic hate crime in which an Armenian army officer was killed with an axe by an Azerbaijani counterpart in Hungary in 2004.
Armenian officer Gurgen Margaryan was murdered in February 2004 by Ramil Safarov, while both men were attending a three-month Nato English-language training course in the Hungarian capital. At Safarov's subsequent trial, he said he was motivated by hatred for Armenia and Armenians, due to the war between the two countries. He was jailed for life by the Budapest court. However, in 2012 Hungary sent Safarov back to Azerbaijan to complete his sentence. On arrival, he was promptly pardoned, released and given a hero's welcome.
In the judgment, the Court cited Azerbaijan's unjustified failure to enforce prison sentence for ethnic hate crime, imposed abroad on its officer, who was pardoned, promoted and awarded benefits upon return; lack of legal basis for military promotion and other benefits; and resulting impunity incompatible with the State's obligation to effectively deter the commission of offences against lives.
The Court has now rejected the possibility of a review of the case by the Grand Chamber, considering it important that the provisions of the decision come into force and be implemented. The decision is final, not subject to revision, its implementation is mandatory for everyone, Sahakyan said.
"The existence of an international judicial act with such content is a serious legal guarantee ensuring the protection of Armenians from Azerbaijani harassment, which, in fact, also rules out any decision that casts doubt on the safety of the population of Artsakh (Nagorno-Karabakh), Sahakyan said.