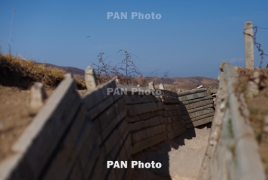 October 17, 2020 - 16:31 AMT
PanARMENIAN.Net - Two Nagorno-Karabakh servicemen captured by Azerbaijan have spoken to their parents over the phone, human rights lawyer Artak Zeynalyan said on Facebook Saturday, October 17.
They are in hospital, Zeynalyan added.
The two soldiers, Areg Sargsyan and Narek Amirjanyan, were captured during the large-scale war unleashed by Azerbaijan against Artsakh (Nagorno-Karabakh, Zeynalyan said earlier.
A group of lawyers representing the families of the soldiers applied to the European Court of Human Rights for urgent measures on October 11.
The ECHR has already notified the Government of Azerbaijan, which is now required to provide the following information:
1. The conditions in which the two captives are currently being held;
2. Information about their medical examinations and overall health condition;
3. Information about the possibility of swapping the two servicemen, based on the provisions of a humanitarian ceasefire between Armenia and Azerbaijan, mediated by Russia.
The Azerbaijani government has until October 22 to answer the questions.
Days earlier, a video depicting the brutal killing of two Armenian prisoners of war by Azerbaijani troops was spreading on social media.
Azerbaijan, with help from Turkey and Syrian and Libyan mercenaries deployed by Ankara, started a war against Karabakh (Artsakh) in the morning of September 27. The Armenian side has reported deaths and injuries both among the civilian population and the military. Foreign and local journalists too have been injured in Azeri shelling of towns and villages.