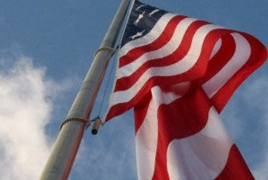 October 24, 2020 - 23:25 AMT
PanARMENIAN.Net - The U.S. Embassy in Baku has received credible reports of potential terrorist attacks and kidnappings against U.S. citizens and foreign nationals in Baku, including against hotels such as the J.W. Marriott Absheron, as well as potentially other locations in Baku, the embassy said Saturday, October 24.
U.S. citizens are advised to exercise heightened caution in locations where Americans or foreigners may gather.
The Embassy recommends exercising caution and remaining vigilant, avoiding crowds, keeping a low profile, being aware of your surroundings, staying alert in locations frequented by foreigners and monitoring local media for updates.
Azerbaijan, with help from Turkey and Syrian and Libyan mercenaries deployed by Ankara, started a war against Karabakh (Artsakh) in the morning of September 27. The Armenian side has reported deaths and injuries both among the civilian population and the military. Foreign and local journalists too have been injured in Azeri shelling of towns and villages.