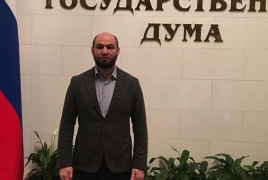 October 28, 2020 - 16:47 AMT
PanARMENIAN.Net - Police in Moscow on Tuesday, October 28 detained the leaders of an Azerbaijani nationalist group called VBON whose members beat people for their social media posts, Readovka reports.
In particular, law enforcement officers arrested Bayramov Ragib Nizamoglu who is the alleged ringleader of cell, and journalist Agayev Roman Matlaboglu, a journalist and an assistant to an Azerbaijani deputy in Khimki, Russia.
Both have been charged with hooliganism.
The ideology of the VBON is based on the propaganda of what they call traditional values of the Azerbaijani people in the Russian society, the promotion of the image of Azerbaijanis as true Muslims.
The group send messages to social media users demanding to remove posts and opinions within 24 hours, vowing to "declare a hunt" and make them apologize in front of the camera.
In a video published in 2019, the members of the cell are seen beating a young man and forcing him to apologize for one of his posts about the Azerbaijanis.