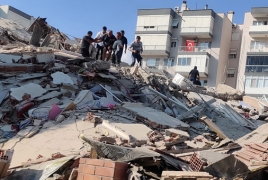 October 30, 2020 - 20:17 AMT
PanARMENIAN.Net - At least six people have been killed in western Turkey after a powerful earthquake hit the Aegean Sea on Friday, October 30 afternoon, sending buildings crashing down on the country's coast and on a nearby Greek island, CNN reports.
At least 20 buildings in the Turkish city of Izmir alone were destroyed, the city's mayor, Tunc Soyer, told CNN Turk. Images showed vehicles crushed under the buildings and people digging through the rubble in search of survivors.
More than 200 people have been injured in Turkey, the country's disaster agency said, dozens of them saved by rescue teams using diggers and helicopters to search for survivors.
TV footage showed water flooding through the streets of Cesme and Seferihisarin in parts of the wider Izmir province, as well as on the Greek island of Samos, in what authorities are calling a "mini tsunami." No tsunami warnings were issued.
Idil Gungor, who works as a journalist and runs a guesthouse in the town of Siğacik in Izmir province, said that the area was damaged more by the force of the water than the quake itself.
Her guesthouse, in a 100-year-old building, had been inundated and fish were swimming inside it, she said. Shops in town have also been flooded and their goods damaged.
"Everybody is calm but shocked and we're wondering what will happen, if there's a second tsunami coming or not," Gungor said.
Authorities in both countries have reported dozens of aftershocks. Izmir Governor Yavuz Selim Köşger called on residents to stay off the roads and refrain from using mobile phones unnecessarily so that emergency vehicles could reach affected areas and response teams could communicate effectively.