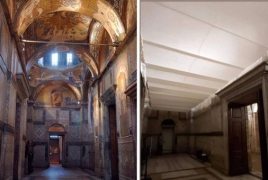 October 31, 2020 - 15:45 AMT
PanARMENIAN.Net - The frescoes and mosaics of Istanbul's historic Chora (Kariye) Museum have been covered up with white curtains, after Turkey's decision to convert the Byzantine structure into a mosque, Bianet reports.
Originally built as a monastery, the museum was expected to open to worship on Friday, October 30 but the first prayer was postponed for more preparations.
Following a Presidential Decree authorizing the conversion of Chora Museum into a mosque, the images of Christ, frescoes and icons in the museum have been covered up with white curtains.
Located in Fatih district in Istanbul, the building was constructed as a monastery in 534 during the Byzantine period. After Istanbul was taken over by the Ottomans in 1453, it was converted into a mosque in 1511, just like Hagia Sophia. Serving as a mosque for 434 years, it was converted into a museum by a Council of Ministers decree in 1945, after the Republic of Turkey was established in 1923.
Vice Secretary General of the Istanbul Metropolitan Municipality (IMM) Mahir Polat has announced on Twitter that "covering frescoes and mosaics of the Chora, one of the masterpieces of the world history of art, will destroy the character and artistic value of the building."
Polat has compared the before and after pictures of the church, noting that "the project [is undertaken by] the ministry and its institutions that manage and protect the cultural heritage of Turkey."