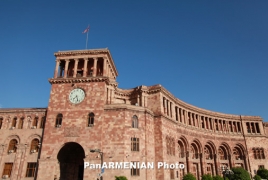 November 10, 2020 - 12:10 AMT
PanARMENIAN.Net - Azerbaijani President Ilham Aliyev's claims that Turkish troops will be involved in a peacekeeping center in Nagorno-Karabakh are not true, Armenian Prime Minister's spokesperson Mane Grigoryan told PanARMENIAN.Net on Tuesday, November 10.
Grigoyan's comments came hours after Armenian Prime Minister Nikol Pashinyan, Russian and Azerbaijani Presidents Vladimir Putin and Ilham Aliyev signed an agreement to end the war in Karabakh.
According to the document, "a peacekeeping center shall be deployed to monitor the ceasefire with a view to increasing the effectiveness of control over the implementation of the agreements reached by the Parties to the conflict."
In particular, peacekeeping troops of the Russian Federation will be deployed along the line of contact in Nagorno-Karabakh and along the Lachin corridor, including 1,960 servicemen with firearms, 90 armored personnel carriers, 380 units of motor vehicles and special equipment. They will stay there for a period of 5 years, with automatic extension for the next 5-year periods, if none of the Parties declares of its intention to terminate the application of this provision 6 months before the expiration of the preceding period.
Azerbaijan, with help from Turkey and terrorist mercenaries deployed by Ankara, started a war against Karabakh (Artsakh) in the morning of September 27. The Armenian side has reported deaths and injuries both among the civilian population and the military. Foreign and local journalists too have been injured in Azeri shelling of towns and villages.