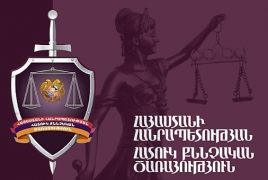 November 21, 2020 - 16:04 AMT
PanARMENIAN.Net - The Special Investigation Service has launched a criminal case based on materials gathered after a press conference by Movses Hakobyan, the former head of the Military Control Service of Armenia's Defense Ministry, SIS spokesperson Marina Ohanjanyan tld PanARMENIAN.Net on Saturday, November 21.
The case was opened on the grounds of abuse of power, which has inadvertently caused severe consequences. Under the country's Criminal Code, the crime, if approved, is punishable by imprisonment for a term of 2 to 6 years, depriving them of the right to hold certain positions or engage in certain activity for a maximum of 3 years.
Hakobyan, who earlier served as the Army Chief of Staff, threw accusations at Prime Minister Nikol Pashinyan and other top officials, after the Armenian side lost significant territories in a war unleashed by Azerbaijan against Nagorno-Karabakh.
Armenian Prime Minister Nikol Pashinyan, Russian and Azerbaijani Presidents Vladimir Putin and Ilham Aliyev have signed a statement to end the war in Karabakh after almost 45 days. Karabakh (Artsakh) President Arayik Harutyunyan has said he has agreed to the deal signed by Armenia, Russia and Azerbaijan.
Read also: Armenia: Ex military official levels accusations at Pashinyan