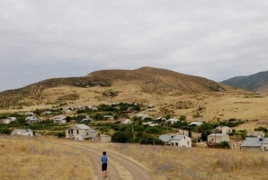 November 23, 2020 - 18:06 AMT
PanARMENIAN.Net - The village of Vazgenashen in Nagorno-Karabakh was handed over to the Azerbaijani side on November 20 but the residents found out about it only in the final hours and were able to leave when the Azerbaijani army had already reached the community.
A Facebook user named Mariam Babayan wrote November 22 that Azerbaijani soldiers entered the village on November 20 and stole a vehicle belonging to her father, Andranik Babayan, who was the head of the community. The Azeri troops than captured Babayan and his son and released only after negotiations with their commander.
Residents of various communities of Karabakh have been facing multiple problems since a last-minute statement on the cessation of hostilities was signed on November 9. Most of them have been forced to leave everything behind, many have burnt their homes when fleeing or killed the livestock.
In another video spreading online, a family from Vazgenashen is seen collecting things and loading them on a car, while the Azerbaijani soldiers are standing on the other side of the fence mocking and insulting the Armenian villagers.
Armenian Prime Minister Nikol Pashinyan, Russian and Azerbaijani Presidents Vladimir Putin and Ilham Aliyev have signed a statement to end the war in Karabakh after almost 45 days. Karabakh (Artsakh) President Arayik Harutyunyan has said he has agreed to the deal signed by Armenia, Russia and Azerbaijan.