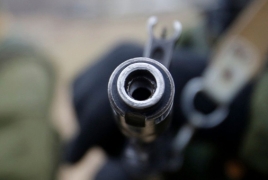 November 23, 2020 - 16:10 AMT
PanARMENIAN.Net - Azeri social media users continue disseminating videos of war crimes committed by the Azerbaijani Armed Forces against the Armenians of Nagorno-Karabakh (Artsakh).
Footage published after the completion of hostilities in Karabakh depicts Azerbaijanis beheading another Armenian man. It is still unknown when and where the video was shot.
In addition, Azerbaijanis have recently murdered three civilians in the city of Shushi. According to Artsakh Ombudsman Artak Beglaryan, the bodies of those killed were mutilated: their ears were cut off, their eyes were gouged out, and their heads were partially cut off.
Azerbaijani soldiers have been filmed committing war crimes in the war that began on September 27 and ended on November 10: shooting Armenian servicemen from automatic rifles and handguns at close range, torturing and brutally murder prisoners of war and captives, cutting off fingers and ears of Armenians, both alive and dead.
Prisoners of war from Nagorno-Karabakh are regularly made fun of by Azeri troops who also mutilate bodies of fallen Armenian servicemen.