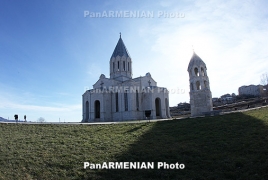 November 23, 2020 - 17:11 AMT
PanARMENIAN.Net - The J. Paul Getty Trust has released a statement on the need to protect Armenian cultural heritage in Artsakh (Nagorno-Karabakh), specifically the part that are going under Azerbaijan's control after a 44-day war that ended on November 10.
"Deliberate physical attacks on cultural heritage are often figurative assaults on the people who identify with that heritage. This was true in Syria, Bamiyan, Bosnia, and Timbuktu. And it is true in Armenia, where Azerbaijani forces recently attacked the Holy Savior Ghazanchetsots Cathedral in Shushi, the cultural capital of Artsakh, Armenia," the statement reads.
"Ancient cultural heritage is common to us all and must be protected. We call upon the international community to support the work of UNESCO, Blue Shield, the Global Centre for the Responsibility to Protect, and all international organizations in the safe-keeping of cultural heritage as vital to the well-being of populations at risk."
According to the Getty Trust, which through its Getty Conservation Institute has long advanced the conservation of cultural heritage, the organization draws attention to such issues in a series of Occasional Papers in Cultural Heritage Policy, written by authors long involved in the formulation and implementation of the doctrine of the Responsibility to Protect.
The ancient Armenian monastery of Dadivank, the ruins and the archeological site of Tigranakert, Ghazanchetsots Cathedral in Shushi and hundreds of other historic monuments will be left to Azerbaijan, under a statement on the cessation of hostilities in Karabakh. At the moment, Russian peacekeepers have been deployed to the area near Dadivank to ensure the safety of both the church and the perishoners. Azerbaijanis, meanwhile, have already destroyed the domes of Saint John the Baptist Church in the city of Shushi, which has come under Azerbaijan's control as a result of the war.
Armenian Prime Minister Nikol Pashinyan, Russian and Azerbaijani Presidents Vladimir Putin and Ilham Aliyev have signed a statement to end the war in Karabakh after almost 45 days. Karabakh (Artsakh) President Arayik Harutyunyan has said he has agreed to the deal signed by Armenia, Russia and Azerbaijan.