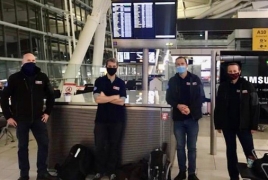 November 24, 2020 - 13:36 AMT
PanARMENIAN.Net - In response to a call from the Armenian Ministry of Health through the WHO, a team of seven of UK-Med doctors, nurses and humanitarian health experts are have arrived Armenia for a five-week UK Emergency Medical Team Covid-19 response in the capital city, Yerevan.
UK-Med is an NGO that trains and deploys medical teams to save lives when epidemics, conflict and natural disasters hit. Their trip to Armenia is made possible thanks to UK Aid funding.
Intensive care (ICU) doctor Rebecca Ingles flew to the capital city on Sunday, November 22. She was joined by other UK Emergency Medical Team members flying from the UK on Monday. These include emergency medicine consultants Paul Ransom and Dave Clarke and critical care nurse and infection prevention and control specialist Patricia McCready. The team is led by UK-Med's CEO David Wightwick. They will be joined by a logistician and a second critical care nurse later this week, the organization said.
UK-Med CEO David Wightwick says: 'We'll be providing training and on the job support for those treating seriously and critically ill patients – as well as advising on infection control to keep clinicians and patients safe. We're proud to be supporting the UK EMT to offer this essential support to health care teams in Yerevan.'
Armenia has a special place in UK-Med's 32-year history. In 1988, the NGO sent a small medical team to assist following the devastating earthquake which killed tens of thousands of people in Armenia's north.
The number of confirmed coronavirus infections in Armenia grew by 813 to reach 127,522 on November 24. So far, 98,944 people have recovered, 2002 have died from the coronavirus in the country, while 507 others carrying the virus have died from other causes.