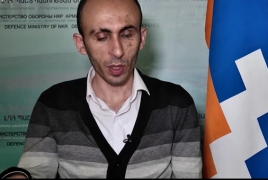 November 27, 2020 - 14:53 AMT
PanARMENIAN.Net - 400 bodies of servicemen killed in the recent war in Nagorno-Karabakh have been recovered or returned to the Armenian side so far, Artsakh Ombudsman Artak Beglaryan said Friday, November 27.
Beglaryan said the International Committee of the Red Cross, Russian peacekeepers deployed in the area and the employees of Artsakh's Emergency Services have recovered some of the bodies.
The Human Rights Defender said the Armenian side, too, has returned bodies to Azerbaijan although hostilities were mainly taking place in areas that ultimately went under Baku's control.
Beglaryan said he has also obtained information that the Azerbaijani side has collected bodies of Armenian servicemen from various locations and is deliberately delaying the process, seeking to make internal tensions in Armenia worse and deepen [the people's] psychological suffering.
Beglaryan said 30 civilians are missing, 11 of them are confirmed dead.
Armenian Prime Minister Nikol Pashinyan, Russian and Azerbaijani Presidents Vladimir Putin and Ilham Aliyev on November 9 signed a statement to end the war in Karabakh after almost 45 days. Under the deal, the Armenian side is returning all the seven regions surrounding Nagorno-Karabakh, having lost a part of Karabakh itself in hostilities.