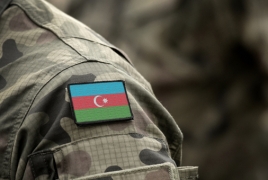 December 3, 2020 - 17:33 AMT
PanARMENIAN.Net - Azerbaijan's Defense Ministry said on Thursday, December 3 that 2,783 of its soldiers were killed during a recent war against Nagorno-Karabakh. This figure, however, does not reflect the reality and is way smaller than the actual number of casualties.
According to the Azeri side, more than 1200 servicemen are currently receiving treatment, while over 100 are still missing.
After the clashes between the Armenian and Azerbaijani forces in August 2013, Azerbaijan put significant limitations on local media's ability to publish information about the country's army. Opposition journalists and Armenian media outlets, however, have proved on multiple occasions that Azerbaijan has a practice of concealing casualties in the armed forces.
The Azerbaijani Defense Ministry has also failed to mention deaths and injuries among mercenaries transferred by Turkey from the Middle East. According to the London-based Syrian Observatory for Human Rights, at least 293 Syrian fighters were killed in action. Also, the official figures don't include losses from Azerbaijan's other law enforcement agencies , such as the State Border Guard Service and the Internal Troops.
The Ministry says 1245 inured servicemen are currently receiving treatment in hospitals across the country but doesn't mention ho many more have been discharged so far.
Armenian Prime Minister Nikol Pashinyan, Russian and Azerbaijani Presidents Vladimir Putin and Ilham Aliyev on November 9 signed a statement to end the war in Karabakh after almost 45 days. Under the deal, the Armenian side is returning all the seven regions surrounding Nagorno-Karabakh, having lost a part of Karabakh itself in hostilities.