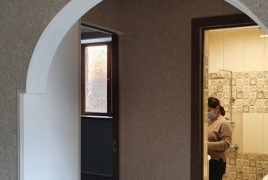 December 11, 2020 - 16:27 AMT
PanARMENIAN.Net - The Harutyunyans' family from village of Lor, Syunik Province has been included in the housing project implemented by Viva-MTS and the Fuller Center for Housing Armenia. The family lived and raised two kids in a half-built home without utilities for 25 years, with Artashes, the head of family, trying to create decent housing conditions throughout that period.
Within the housing project, the family embarked on the construction of a new house in summer, which has been almost completed․
The newly built house has all the amenities. Instead of one room they had before, the family now has a bright and comfortable four-room house. There is a great desire to host guests in the enlarged area. The homeowners hosted Viva-MTS General Manager Ralph Yirikian through a video call.
"Time schedule and circumstances kept me physically away, but it is the result that matters most. Now you have the house you had been dreaming of. My request to you is to never limit the notion of 'home' with the place, where you live and sleep. Cherish your village, your land, your Homeland with the love in your hearts, with the work in your orchard, in your thoughts, in your deeds and in your dreams. It is our shared home and united we shall care for every single corner of our motherland. Challenges will be overcome where there is unity, faith and commitment to making our dreams come true by work. You have managed to achieve your dreams after 25 years of anticipation. Keep your devotion and your love alive by sticking to your land," Yirikian said.
After the July war, Viva-MTS increased its investment as much as possible to provide maximum support to the Fuller Housing Center of Armenia to support families facing housing problems. Over AMD 230 million have been allocated. Instead of the 37 families announced at the beginning of the year, 96 families will overcome the house building or renovation problems this year.