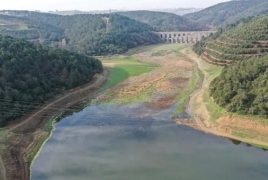 January 14, 2021 - 15:52 AMT
PanARMENIAN.Net - Major cities across Turkey face running out of water in the next few months, with warnings Istanbul has less than 45 days of water left, The Guardian reports.
Poor rainfall has led to the country's most severe drought in a decade and left the megacity of 17 million people with critically low levels of water, according to Turkey's chamber of chemical engineers. The Ankara mayor, Mansur Yavaş, said earlier this month the capital had another 110 days' worth in dams and reservoirs.
İzmir and Bursa, Turkey's next two biggest cities, are also struggling, with dams that are about 36% and 24% full respectively, and farmers in wheat-producing areas such as the Konya plain and Edirne province on the border with Greece and Bulgaria are warning of crop failure.
The acute lack of rainfall in the second half of 2020 – approaching 50% year on year for November – led the religious affairs directorate to instruct imams and their congregations to pray for rain last month.
Turkey is a "water stressed" country, with just 1,346 cubic metres of water per capita per year, and has faced several droughts since the 1980s due to a combination of population growth, industrialisation, urban sprawl and climate change.