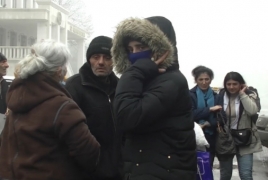 January 22, 2021 - 12:08 AMT
PanARMENIAN.Net - Nagorno-Karabakh (Artsakh) presidential spokesman Vahram Poghosyan has confirmed that 95,000 people – more than 63% of the 150,000 population – have returned to Karabakh after the end of hostilities, Civilnet reports.
Armenia's Minister of Labor and Social Affairs Mesrop Arakelyan told lawmakers on Wednesday, January 20 that 95,000 people have so far returned to Karabakh. The Russian peacekeeping contingent, however, has put the figure at a little over 50,000.
Poghosyan said Friday that both numbers are correct as 95,000 people have indeed returned to Karabakh. Data provided by the Russian side, however, only includes people who have gone back to the their homes with the peacekeepers' mediation, the spokesman added.
"We should also count the many people who have returned to Karabakh by car and have not used the services of the buses. The figures provided by the peacekeepers begin from November 14, but there was a big wave between November 10 and 14," Poghosyan said.
Armenian Prime Minister Nikol Pashinyan, Russian and Azerbaijani Presidents Vladimir Putin and Ilham Aliyev on November 9 signed a statement to end the war in Karabakh after almost 45 days. Under the deal, the Armenian side has returned all the seven regions surrounding Nagorno-Karabakh, having lost a part of Karabakh itself in hostilities.