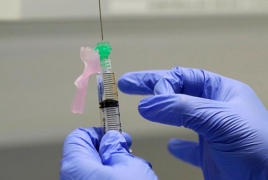 January 22, 2021 - 14:33 AMT
PanARMENIAN.Net - Scientists are increasingly concerned about a new variant of Covid-19 that has emerged in South Africa, Vox reports.
There's evidence from several small, and not-yet-peer-reviewed, studies that mutations in the South Africa variant — known as 501Y.V2 and already present in at least 23 countries — may have a higher risk of Covid-19 reinfection in people who've already been sick and still should have some immunity to the disease.
Scientists haven't confirmed that this variant is more contagious, though evidence is pointing in this direction. They're also concerned that 501Y.V2 could have implications for treatments for Covid-19. Regeneron, a company that has developed a cocktail of two monoclonal antibodies as a therapy for patients with the illness, reported that 501Y.V2 may be able to evade one of the antibodies in its mix. The drug is still effective, but subsequent mutations could render it less so.
But perhaps most alarming is the prospect that the mutations in the variant could limit the effectiveness of existing vaccines, one of the best tools we have for controlling the pandemic.
The results of these recent studies are "a serious indication we have to look hard at how well vaccines might work," Penny Moore, a virologist at the National Institute for Communicable Diseases in South Africa, told Vox. Taken together, they highlight the dangers of letting Covid-19 spread unchecked and also portend the challenges that lie ahead as the virus continues to evolve.