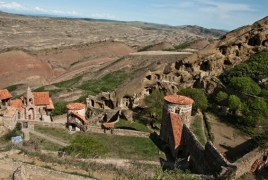 January 23, 2021 - 12:10 AMT
PanARMENIAN.Net - The Georgian Prosecutor's Office has completed the investigation into the high-profile Georgia-Azerbaijan border case and now the process will continue in the court, Agenda.ge reports.
Part of the famous complex of David Gareja is located on the Azerbaijan–Georgia border and has become subject to a border dispute between the two countries.
The Prosecutor's Office has released surveillance footage and said that one of the detainees in the case, Iveri Melashvili, was forced to sign a border agreement in 2006 under the previous United National Movement government, which led to the forfeit of 3,500 hectares of lands against Georgia's interests.
The Prosecutor's Office said that Melashvili, who chaired the Georgian commission working on the demarcation of state borders under the UNM leadership, acted per the demands of his superiors.
The Prosecutor's Office said that the video was recorded in the working room of Melashvili before his detention last year, per the court's consent. In the video recording, Melashvili confirmed that Georgia had changed its initial position on the border with Azerbaijan at the bottom of the Udabno Monastery of David Gareji monastery complex in 2006.
If the border was made at the bottom of Udabno monastery then the whole Georgian monastic complex would have ended up on Georgian territory. However, Melashvili says in the video that per the demand he received (from his superiors) he had to accept making the border on the slope of Udabno mountain. Melashvili says that it was not the right step. However, he signed the agreement," said Chief Prosecutor's Office.
About 100 individuals have been interrogated in the case and important materials have been seized, including maps," said the Prosecutor's Office.
They said that they found the original map of 1937-1938 in the working room of another detainee Natalia Ilichova. The map is the possession of the state and should have been saved in the National Archive of the Public Registry Agency and not in the room of the suspect," said the Prosecutor's Office.