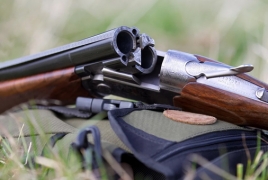 February 12, 2021 - 13:20 AMT
PanARMENIAN.Net - Armenian citizens living in border settlements will be allowed to carry hunting rifles when the parliament approves amendments to the Law on Weapons. The new bill is drafted by lawmakers Armen Khachatryan and Sergey Bagratyan from the ruling My Step bloc, according to Armtimes.com.
"The restriction that a person has to carry a smoothbore gun for at least five years before being allowed to carry a rifle will be removed. The move will definitely boost their sense of security, they will also be able to hunt, defend themselves from wild animals," Khachatryan has explained.
"They may never use the weapons throughout their lives, but owning a weapon already builds confidence."
The lawmaker said he has discussed the matter with the mayor of Kapan, a city in the northern province of Syunik, and the mayor has confirmed that the move is a necessary one. Asked whether the amendments could cause a spike in violent crime, Khachatryan said only those who are not registered in medical institutions and have never been convicted will be allowed to carry weapons.
After the 44-day in Nagorno-Karabakh, many villages and towns in Syunik have become border settlements, where residents worry for their safety. For example, the border now passes through the Armenian village of Shurnukh, some families having lost their property and homes as a result.