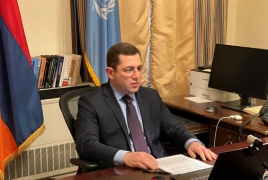 February 23, 2021 - 15:13 AMT
PanARMENIAN.Net - Expecting Azerbaijan to eliminate racism and xenophobia would be an illusion, Mher Margaryan, Permanent Representative of Armenia to the UN, said at the ECOSOC Special Meeting last week.
"The global crisis caused by the Covid-19 pandemic and its severe impacts have shaken the very foundation of our societies, having increased structural inequalities that disproportionately affect vulnerable populations, and further intensifying racism, discrimination and related intolerance," the ambassador said.
However, Margaryan said, it would be an illusion to expect that the elimination of racism and xenophobia is possible in a country like Azerbaijan, "where violations of fundamental human rights, lack of accountable institutions, systemic corruption and instigation of violence and hatred have become part of the usual course of things, as extensively reported by independent experts and international organizations."
"When the representative of Azerbaijan referred during today's debate to the fictional number of "30,000 Armenians living peacefully in Azerbaijan" and the "preservation of the Armenian church" in Baku, they conveniently forget that, according to their own census, the number of Armenians in current Azerbaijan is only a few hundreds; that the authorities have removed the cross and the dome of the church and turned it into an administrative building a long time ago," the envoy said.
"Indeed, it is nothing short of cynicism that a country that tries to portrays itself as "model" of tolerance and multiculturalism, has been, in fact, systematically annihilating every trace of the civilizational presence of Armenians in the territories currently under its control."
Margaryan reminded that despite calls for international solidarity to focus on peace and recovery and in blatant disregard to the UN Secretary-General's appeal and in violation of the ceasefire agreement of 1994, Azerbaijan chose to launch a pre-planned aggression against the people of Nagorno-Karabakh in the midst of the global health crisis, with the involvement of terrorists and mercenaries and with multiple instances of war crimes, atrocities, torture and extrajudicial killings of civilian hostages and prisoners of war, as well as desecration and destruction of the Armenian Christian heritage.