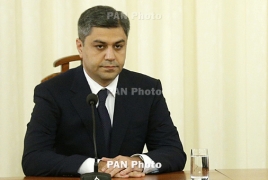 February 26, 2021 - 14:57 AMT
PanARMENIAN.Net - Homeland party leader, former director of the National Security Service Artur Vanetsyan has said he can ensure the return of the captives from Azerbaijan in a matter of days if he is somehow involved in the country's government.
"I officially promise that if I come into power, the issue of the return of the captives will be solved in a matter of days," Vanetsyan said Friday, February 26, adding, however, that he is not going to support Prime Minister Nikol Pashinyan.
Asked whether he would agree to assume office in the event of a proposal from the Prime Minister, Vanetsyan said he is now involved in the Homeland Salvation Movement, whose supporters demand that he remove Pashinyan and his government from power.
"Personal connections play a serious role in general, and I have normal, human relations in Russia and other countries, I am sure I will be able to solve those issues," he said.
Several hundred opposition supporters are camping out in tents outside Armenia's parliament on Friday demanding Pashinyan's resignation. The PM came under fire after signing a statement with the Russian and Azerbaijani Presidents to end the war in Karabakh after almost 45 days. Under the deal, the Armenian side was forced to return all the seven regions surrounding Nagorno-Karabakh, having lost a part of Karabakh itself in hostilities.