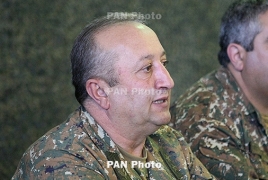 March 2, 2021 - 19:32 AMT
PanARMENIAN.Net - Armenia's Iskander system was used during the recent war in Nagorno-Karabakh, Former Chief of the General Staff of the Armenian Armed Forces Movses Hakobyan has said.
Hakobyan thus reaffirmed his earlier statement on the use of Iskander by the Armenian side, Aravot.am reports.
"I'm not an average soldier providing unverified information. I answer and insist that the Iskander was fired during the war. That's all. The rest is none of my business," Hakobyan said.
Immediately after the war, Hakobyan gave a press conference and said an Iskander missile had been used, but did not disclose other details.
Armenian Prime Minister Nikol Pashinyan said earlier that the Iskander missiles did not explode or weren't fully functional during hostilities in Nagorno-Karabakh, and was contradicted by then First Deputy Chief of the Army General Staff, Lieutenant General Tiran Khachatryan, who was later sacked. Several days later, however, a spokesperson for Pashinyan said the PM had been given inaccurate information concerning the situation with the Russian missiles.