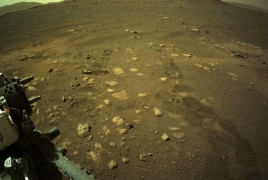 March 6, 2021 - 15:02 AMT
PanARMENIAN.Net - NASA's Mars rover Perseverance has taken a short drive two weeks after touching down, mission managers have said, The Guardian reports.
The six-wheeled, car-sized probe went 6.5 meters during a half-hour test within Jezero crater, an ancient lake bed and river delta.
Taking directions from mission managers at NASA's Jet Propulsion Laboratory (JPL) near Los Angeles, the rover rolled 4 meters forward, turned about 150 degrees to its left and then drove backward another 2.5 meters.
"It went incredibly well," said Anais Zarifian, a JPL mobility test engineer, calling it a "huge milestone".
HASA displayed a photo from the rover showing its own wheel marks.
Nasa has named the landing site the Octavia E Butler Landing in honour of the award-winning American science-fiction writer. Butler, from Pasadena, California, died in 2006 at age 58.