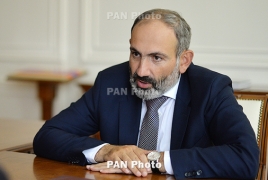 March 27, 2021 - 12:33 AMT
PanARMENIAN.Net - Armenian Prime Minister Nikol Pashinyan's "My Step" alliance should be able to maintain a working majority coalition in parliament at the June 20 snap elections, Fitch Ratings said as it affirmed the country's Long-Term Foreign-Currency (LTFC) Issuer Default Rating (IDR) at 'B+' with a Stable Outlook.
After Pashinyan signed a Russia-brokered ceasefire agreement on November 9, 2020 to end the Nagorno-Karabakh conflict, the country has seen a period of heightened protests and political interventions by the military calling for his resignation.
"Although we expect Pashinyan to retain power, support for his government has diminished since the war and could exacerbate the challenges of implementing structural reforms and tackling corruption," Fitch said.
"The effects of Armenia's defeat in the Nagorno-Karabakh war are likely to persist, with the influx of refugees to Armenia numbering in the tens of thousands (Armenia's 2019 population: 3 million), and the need to re-establish diplomatic efforts through the previously failed OSCE Minsk Group process. Despite the presence of Russian peacekeeping forces, tensions in Nagorno-Karabakh have the potential to reignite due to the absence of a demilitarised zone. The war has also further entrenched Armenia's reliance on Russia for security and economic relations."
The impact of the twin Covid-19 pandemic and conflict shocks saw government indebtedness reverse its prior downward trend, with general government debt/GDP rising 13.8pp to 67.3% at end-2020, overtaking the current 'B' median (63.8%).
"We forecast debt/GDP to peak at 67.6% at end-2021, before falling gradually to 63.5% by end-2025 as the government re-implements its medium-term fiscal rules and targets to reduce the metric to 60% by end-2026. Weaker growth due to economic scarring from the 2020 shocks and spending pressures to support the economy constrain the potential for faster public debt reduction. Foreign-currency denominated debt represents 77% of public debt ('B' median: 61%), increasing the country's vulnerability to dram depreciation," Fitch added.