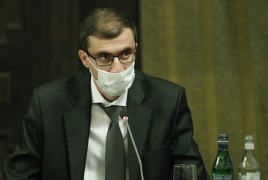 April 7, 2021 - 15:55 AMT
PanARMENIAN.Net - 9000 families in Artsakh (Nagorno-Karabakh) have no permanent places of residence, Armenia's Minister of Labor and Social Affairs Mesrop Arakelyan told reporters on Wednesday, April 7.
Arakelyan said only a few hundred homes have been constructed so far, with the housing project set to span three years. The Minister said new houses are being built in the rural settlements of Artsakh that have necessary infrastructure and can accommodate more people than their current populations, Pastinfo reports.
According to Arakelyan, both the Armenian government and Hayastan All-Armenian Fund will provide money for the project.
It was reported earlier that the Armenian government has decided to provide AMD 110 billion (some $208 million) for the construction of houses and infrastructure in Artsakh. According to official information, up to 30,000 refugees from Karabakh currently reside on the territory of Armenia.