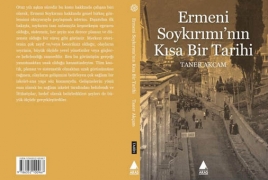 April 7, 2021 - 18:45 AMT
PanARMENIAN.Net - Turkish historian Taner Akcam has written a Turkish-language book about the Armenian Genocide, the author himself said in a Facebook post on Tuesday, April 6.
"My forthcoming Turkish book. A Short History of Armenian Genocide," Akcam captioned the photo of the new book. "It is a great feeling, like a newborn child..."
Back in 2018, Akcam published the book "Killing Orders: Talat Pasha's Telegrams and the Armenian Genocide", in which he destroyed the Turkish government's denial strategy.
In the book, Akcam included a recently discovered document, a "smoking gun", which points to the Ottoman government's central role in planning the elimination of its Armenian population. Furthermore, he successfully demonstrated that the killing orders signed by Ottoman Interior Minister Talat Pasha, which the Turkish government has long discredited, are authentic.