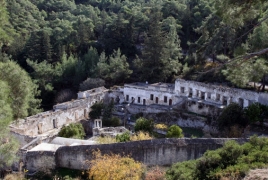 April 8, 2021 - 17:46 AMT
PanARMENIAN.Net - The U.S. Embassy in Cyprus strongly condemns the misuse of Saint Magar Armenian Monastery, ambassador Judith G. Garber said in a tweet on Wednesday, April 7, after a group of people hosted a party at the church which is situated in the Turkish-controlled Northern Cyprus.
"Freedom of worship is a fundamental value, and we echo the call from religious leaders that all places of worship, in use or not, be protected against misuse, vandalism, and desecration," the tweet reads.
A number of Armenian churches and heritage sites in Turkey have been destroyed, vandalized, desecrated over the years, with many others having been converted into mosques, cattle sheds and warehouse. Just recently, in January 2021, a man organized a barbeque party in the historic Armenian Sourp Asdvadzadzin Church (19th century) near the city of Urfa, Turkey.