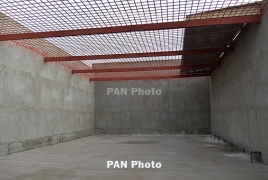 April 9, 2021 - 17:31 AMT
PanARMENIAN.Net - Incarceration rate has dropped by 50.4% in Armenia over the last decade, according to a new report by the Council of Europe.
As of January 2020, Armenia has 75 inmates per 100,000 people, down from 151 in 2010. While Turkey and Russia are the two countries with the highest incarceration rates (357 and 356 inmates per 100,000 people, respectively), neighboring Georgia is in a third position, with a 264, followed by Lithuania անդ Azerbaijan with rates of 220 and 209, respectively.
Total number of inmates (including pre-trial detainees) in Armenia is 2221, while the total capacity of penal institutions is 5346. According to information provided by the Council of Europe, the country spends €18.8 per day for the detention of one inmate.
In 2019, 13 inmates were transferred from foreign countries to Armenia, including 12 from Russia and 1 from Belarus.
Monaco, Liechtenstein, Iceland and Finland are the European countries with the lowest prison population, with less than 50 inmates per 100,000 citizens. San Marino has none.