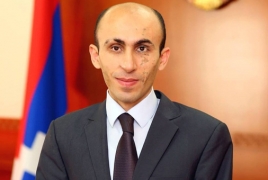 April 14, 2021 - 11:36 AMT
PanARMENIAN.Net - The Chief of Presidential Staff of Artsakh (Karabakh), former Human Rights Defender Artak Beglaryan has raised the issue of Armenians returning to their historical lands in Nakhijevan, Shamkhor, Ganja, hours after Azeri President Ilham Aliyev repeated his theory of "returning to Yerevan", the Armenian capital, one day.
"Azerbaijan and personally Aliyev does everything to humiliate Armenians and deepen Armenophobia, at the same time talking about "readiness" for regional peace and cooperation," Beglaryan tweeted.
"P.S. Why not Armenians return to Baku, Sumgait and their historical lands Nakhijevan, Shamkhor, Ganja etc?"
Aliyev has claimed on numerous occasions that Yerevan, the province of Syunik and Lake Sevan in Armenia are all "Azerbaijan's historic lands". Back in December 2020, U.S. Representative Jackie Speier spoke out against such remarks, describing them as "chilling", which she said "evoke Ottoman rhetoric before the Armenian Genocide."