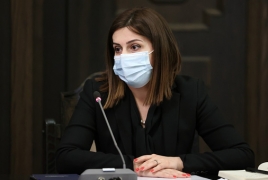 April 15, 2021 - 16:25 AMT
PanARMENIAN.Net - Armenia has so far registered 600 cases of Covid-19 re-infections – less than 0.3% of all the 206,142 cases reported in the country – Health Minister Anahit Avanesyan said at the National Assembly on Thursday, April 15.
Avanesyan said the first and second infections should happen at least 90 days apart for them them to be considered repeat infections.
Most people who have had Covid-19 are protected from catching it again for at least six months, but elderly patients are more prone to reinfection, according to peer-reviewed research published in The Lancet medical journal Wednesday, March 17 evening, CNBC reported in-March. Only a small proportion of people (0.65%) return a positive PCR test twice.