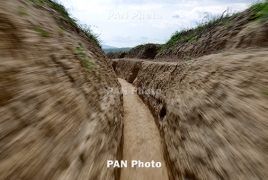 April 30, 2021 - 11:55 AMT
PanARMENIAN.Net - 8-10 Azerbaijanis crossed the line of contact in the northeast of the border and reached the area between the positions of Armenia and Azerbaijan on Wednesday, April 28, the Defense Ministry reports.
The Azerbaijanis were carrying 30-40-meter-long pipes with them, presumably for installing water lines to the nearest Azerbaijani positions. However, once they noticed the Armenian servicemen, they immediately fled towards the settlement closest to the border, leaving the pipes behind.
According to the Defense Ministry, the Armenian military showed restraint and did not respond to the provocations.
The National Security Service reported, meanwhile, that no incidents happened in the south of the border between the two countries.
The units of the Armenian Armed Forces and the National Security Service continue controlling the situation in along the border," the Defense Ministry added.