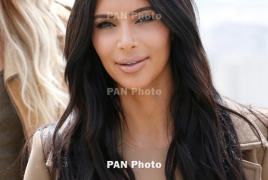 May 1, 2021 - 13:55 AMT
PanARMENIAN.Net - Reality TV star and beauty mogul Kim Kardashian West has said she will continue to support and raise awareness about Armenia.
Kardashian West's comments came after President Armen Sarkissian thanked her and her family for the "huge impact" they had when it came to raising awareness about Armenians. "It was fantastic to see how your influence and actions played an important role in [the international] recognition of the Genocide. Thanks, Kim, for your tireless efforts, sincere devotion and commitment," Sarkissian tweeted.
The Armenian-American TV billionaire took to Twitter to thank Sarkissian for always taking the time to educate her further on Armenia. She also thanked the Armenian National Committee of America and Armenian groups along with every Armenian who fought for President Joe Biden's recognition of the Armenian Genocide.
"I'm happy I could help raise awareness and will always continue to support this beautiful country," Kardashian West wrote.
Her sister Khloé too weighed in, sharing the President's post alongside a bunch of Armenian flag emojis.
In a statement published on April 24, Biden made good on a campaign promise and became the first American President to use the term "Genocide" on the April 24 Remembrance Day to describe the massacre of 1.5 million Armenians in the Ottoman Empire between 1915 and 1923.