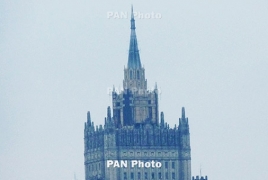 May 18, 2021 - 12:51 AMT
PanARMENIAN.Net - Russia will provide assistance to Armenia and Azerbaijan in resolving tensions on the border, if such a request comes from both sides, Russian Deputy Foreign Minister Andrei Rudenko told reporters on Monday, May 17.
"It is normal when parties, in such an environment, turn to us for help, assistance, mediation, especially since we have experience in developing the statements from November 9 and January 11," Rudenko said.
"Therefore, if such a request is made by all the participants, and not just by one of the parties – I mean by Azerbaijan and Armenia – we will be ready to provide the assistance we can."
Rudenko said the Foreign Ministers of the member states of the Collective Security Treaty Organization (CSTO) will discuss the tension on the Armenian-Azerbaijani border in Dushanbe on May 19. Armenia has asked for help from the CSTO, of which it is a member, to end Azerbaijan's presence on its soil.
On the morning of May 12, the armed forces of Azerbaijan violated the border of Armenia in the southern province of Syunik, advancing 3.5 kilometers and surrounding Sev Lake, which is situated on the border between the two countries but is predominantly a part of Armenia. On May 13, the Azerbaijani military committed more border violations against Armenia, advancing near Vardenis (Gegharkunik province) and Sisian (Syunik province).