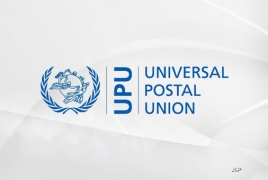 June 4, 2021 - 14:27 AMT
PanARMENIAN.Net - The Universal Postal Union has decided to not register the "Azerbaijan-2020", an anti-Armenian stamp, because they are against the conventions and ethics rules of the UPU.
The Union has asked Azerbaijan to review it, after the Armenian Ministry of High Technologies and the Foreign Ministry sent a letter to the agency to raise awareness about Azerbaijan's Armenophobic campaign following the war against Artsakh (Nagorno-Karabakh) in 2020.
A commemorative stamp sheet released in Azerbaijan in January depicted a person wearing a hazmat suit who appears to be disinfecting, de-fumigating or chemically cleaning the territory of Nagorno-Karabakh. On the new issue, the territory of Karabakh, as well as the southern parts of Armenia proper were colored in dark green, which, according to the designers of the sheet, needed to be cleansed.
Hate speech and calls for violence against Armenians surged to an unprecedented level in Azerbaijan, especially during Baku's aggression against Nagorno-Karabakh. Turks and Azeris living abroad were filmed threatening Armenians and attacking them during peaceful gatherings and rallies across the world.