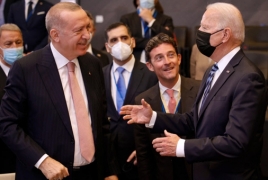 June 15, 2021 - 13:45 AMT
PanARMENIAN.Net - Turkish President Recep Tayyip Erdogan said on Monday, June 14 he held a "fruitful and sincere" meeting with his U.S. counterpart Joe Biden on the sidelines of the NATO summit in Brussels, Al Jazeera reports.
"We believe there is no problem that cannot be resolved in Turkey-U.S. relations," Erdogan added after holding his first meeting with Biden since his election.
At a press conference on the sidelines of a NATO summit in Brussels, Erdogan said the "extensive talks" with Biden covered cooperation on regional issues and he emphasized his long years of friendship with the US leader.
In a brief exchange with reporters, Biden described it as a "very good meeting". He and Erdogan met privately before being joined by other officials. They spent in total more than an hour together.
The U.S. president later told reporters that the discussion was "positive and productive". He said the leaders "had detailed discussions about how to proceed on a number of issues", but did not go into much further detail.
Biden has known Erdogan for years but their relationship has frequently been contentious. During his election campaign, Biden drew ire from Turkish officials after he described Erdogan as an "autocrat".
In April, Biden infuriated Ankara by recognizing the Armenian Genocide.