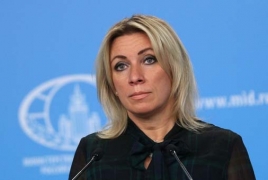 June 18, 2021 - 14:41 AMT
PanARMENIAN.Net - Russia believes that combining the bilateral relations of Azerbaijan or Armenia with third parties and the Nagorno-Karabakh conflict is not correct, the official representative of the Russian Foreign Ministry Maria Zakharova said on Friday, June 18, commenting on a declaration signed by Azerbaijan and Turkey days earlier.
On June 15, the presidents of Azerbaijan and Turkey, Ilham Aliyev and Recep Tayyip Erdogan, signed an agreement in the Nagorno-Karabakh city of Shushi, which came under Baku's control during the 44-day war in fall 2020. The text of the declaration notes that both countries will act together in the event of a threat or aggression from a third state. It is also noted in the declaration that "the parties will continue joint efforts to modernize the armed forces of the two fraternal countries in accordance with modern requirements."
"We do not consider it correct to combine the topics concerning Nagorno-Karabakh and bilateral relations of Armenia or Azerbaijan with third countries," Zakharova told reporters on Friday.
"It is in this vein that we view the latest Azerbaijani-Turkish contacts at the highest level. We proceed from the premise that bilateral ties in the region, including military ones, should not be built against other states."
According to her, Russia supports all steps, including dialogue between Armenia and Turkey, aimed at normalizing the dialogue between Baku and Yerevan.
"Cooperation in the South Caucasus should develop on the principles of good neighborliness and, of course, taking into account the interests of all countries in the region," Zakharova noted.