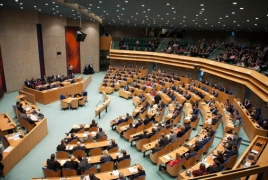 June 23, 2021 - 18:58 AMT
PanARMENIAN.Net - DENK, a Turkey-backed party that won three seats in the Dutch parliament this spring, joined a resolution adopted by the parliament last week, calling on the foreign minister to pressure Azerbaijan to immediately release the Armenian prisoners of war and other captives, Armenpress reports.
The party leaders are claimed to be closely linked to Turkish president Recep Tayyip Erdoğan's Justice and Development Party (AKP).
They have a record of serving the interests of Turkey and Azerbaijan and never criticize Erdoğan and Turkish government policies.
Azerbaijan is refusing to return all Armenian prisoners of war, in violation of the statement on the cessation of hostilities signed by the parties in November 2020. The Armenian side has information about some 200 Armenians still in Azerbaijan's captivity, but Azeri President Ilham Aliyev claims that persons being kept in Baku are not PoWs, but "terrorists and saboteurs". At least 19 of the hundreds of Armenian captives have been tortured and killed, according to their lawyers. In addition, six Armenian troops were captured on Armenian soil in late May.