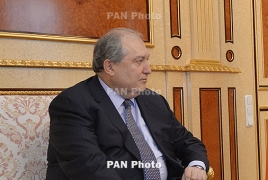 June 24, 2021 - 14:39 AMT
PanARMENIAN.Net - Armenian President Armen Sarkissian has said in an interview with the Spanish newspaper el país that there are no guarantees that Azerbaijan and Turkey won't invade Nagorno-karabakh without the Russian peacekeepers.
Reminding that ceasefire in Karabakh was achieved thanks to a trilateral statement, Sarkissian said Russia's role is very important.
"If Russia were not there (in Karabakh - Ed.), the situation would be completely different. Can anyone give me guarantees that Azerbaijan, with Turkey, would not feel free to barge in? It is clear that this ceasefire is agreed between the three parties; maybe there is a fourth involved behind the scenes ,like Turkey, a NATO member, that attacked a small country like Armenia using NATO weapons," Sarkissian said.
In the war against Artsakh (Karabakh), Turkey supported Azerbaijan militarily, also by transferring terrorist mercenaries from the Middle East to fight against Karabakh. Armenia was the first to report on Turkey's deployment of thousands of Syrian fighters to Azerbaijan. International media publications followed suit, as did reactions from France, Russia, Iran and Syria. The Nagorno-Karabakh Defense Army has already unveiled footage from the interrogation of two such terrorists captured on the front.