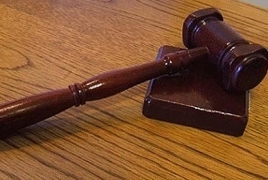 June 25, 2021 - 18:11 AMT
PanARMENIAN.Net - The Baku Grave Crimes Court continues the trial of 14 Armenian prisoners of war, illegally detained in Azerbaijan after the war in Nagorno-Karabakh in fall 2020.
During a court hearing on Friday, June 25, the judge said that if charges against the Armenian captives were confirmed during the trial, they could be sentenced to 14-20 years in prison or be handed life sentences, Haqqin.az reports.
While clarifying the personal information about the captives, it turned out that one of them, Albert Petrosyan, born in 1996 and originally from Gyumri, holds dual citizenship. "I have lived in Moscow since 2013. I am a citizen of Armenia and Russia," he said.
When the judge asked if the captives had motions in the case, Volodya Hakobyan, another captive, said: "Please, return us home."
At the meeting, the state prosecutor announced the indictment. According to him, the captured Armenians are accused of "illegal acquisition of weapons, ammunition, explosives, the creation of an armed formation, whose members illegally crossed the state border of Azerbaijan on November 7, 2020."
Azerbaijan is refusing to return all Armenian prisoners of war, in violation of the statement on the cessation of hostilities signed by the parties in November 2020. The Armenian side has information about some 200 Armenians still in Azerbaijan's captivity, but Azeri President Ilham Aliyev claims that persons being kept in Baku are not PoWs, but "terrorists and saboteurs". At least 19 of the hundreds of Armenian captives have been tortured and killed, according to their lawyers. In addition, six Armenian troops were captured on Armenian soil in late May.