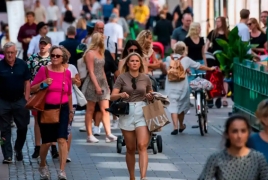 July 9, 2021 - 12:38 AMT
PanARMENIAN.Net - Sweden's Foreign Ministry has removed its advice against travel to Armenia and 10 other countries, including Canada and Bosnia & Herzegovina, with immediate effect from July 8, The Local reports.
The full list of countries affected includes Armenia, Azerbaijan, Bosnia & Herzegovina, Brunei, Canada, Jordan, Kosovo, Moldova, Montenegro, Qatar and Saudi Arabia.
The Foreign Ministry also said it was working on a new system "where pandemic-related travel advisories are retained only for particularly vulnerable countries and regions", but that this would only be implemented after the summer and would be dependent on the continuation of "the overall positive development in the world" regarding the Covid-19 situation.
The advisory has been extended multiple times since it was first introduced in mid-March 2020. It applies to travel from Sweden overseas, and although it is not legally binding (you are still able to leave the country), it is intended to dissuade people from non-necessary travel and can have implications on the validity of travel insurance if you travel against official advice.
Australia, Hong Kong, Israel, Lebanon, Macao, New Zealand, Rwanda, Singapore, South Korea, Taiwan, Thailand, and the USA have also been exempted from the list since previously, and are now joined by the 11 new countries.
For countries not on the exemption list, the advice to avoid non-necessary travel still applies until at least September 1st, 2021.