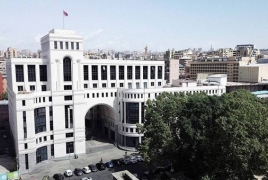 July 19, 2021 - 17:46 AMT
PanARMENIAN.Net - Yerevan on Monday, July 19 blasted Azerbaijan's false territorial and historical claims against Armenia as attempts to remove the Nagorno-Karabakh conflict from the international agenda and create new threats for regional security and stability.
Azerbaijani President Ilham Aliyev has claimed on numerous occasions that Syunik in Armenia's south, the area surrounding Lake Sevan, and Yerevan, the capital, are Azerbaijan's "historic lands", and that Azerbaijanis "will return to those territories", also citing the November 9 statement on the cessation of hostilities in Karabakh.
In response to an Armenpress question about Azerbaijan's continued territorial claims, the Armenian Foreign Ministry said the Azerbaijani side does not shy away from falsifying the November 9 statement. "If we follow the logic of the Azerbaijani interpretation of the above-mentioned document related to the return of the displaced people, then the Armenian refugees should return to Nakhichevan, Gandzak, Baku, Sumgait, and other territories of present-day Azerbaijan, ethnically cleansed of their Armenian population," the Foreign Ministry said. "As for the historical claims made to Armenia by the spokesperson of the Ministry of Foreign Affairs of Azerbaijan,
it is difficult for us to comprehend Azerbaijan's criteria on defining anything "historical". We have to remind once again that history can never be the strong side of a country whose geographical and political name has only a century-old history, and the name of Azerbaijani is even more recent."
The Foreign Ministry added that the efforts of the Azerbaijani leadership to disseminate and maintain lasting enmity between the Armenian and Azerbaijani peoples are a constant threat towards regional peace and security. "Before accusing Armenia of revanchism, Azerbaijan should explain to the international community what the purpose of Baku's "war trophies park" is, which is nothing but a shameful "monument" of revanchism and hatred," it said.
"Armenia will continue to act consistently in supporting the realization of the right to self-determination of the people of Artsakh, the de-occupation of the territories of Artsakh subjected to ethnic cleansing, and the return of the Armenian population to those territories in line with the November 9 trilateral statement. Only the resumption of the Nagorno-Karabakh peace process under the auspices of the OSCE Minsk Group Co-Chairmanship can create prerequisites for lasting peace in the region."