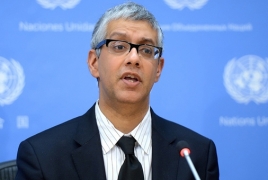 July 29, 2021 - 12:00 AMT
PanARMENIAN.Net - The United Nations has urged Armenia and Azerbaijan to exercise restraint, amid renewed violence along the border between the two countries.
The statement from the UN came after the Azerbaijani armed forces attacked the Armenian positions in Gegharkunik province, triggering local battles. Three Armenian troops were killed, five others were wounded in the process, the Defense Ministry said, adding that the Azerbaijani forces have been thwarted back to their positions. The Azerbaijanis fired on Armenian positions on July 29 too, injuring one more soldier.
"We have been following with growing concern continuing reports of tensions on the Armenian-Azerbaijan border, including the latest incident reported today," said Farhan Haq, Deputy Spokesman for the Secretary-General, on July 28.
"While the UN is not in a position to verify such reports, we urge both sides to exercise restraint, refrain from any action that could escalate tensions, and address related concerns through dialogue."