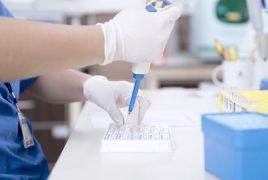 July 31, 2021 - 12:38 AMT
PanARMENIAN.Net - It is a "realistic possibility" that a new Covid variant could emerge which could kill more than a third of the people it infects. Documents published by the Scientific Advisory Group for Emergencies (SAGE) on Friday, July 31 have said that future strains of the novel coronavirus could be as deadly as MERS, The Mirror reports.
In such a scenario, the virus could kill 35% of those it infects.
The panel, which advises the government on its pandemic response, warned that such mutations are most likely to occur when the virus is widely spread - as it is currently in the UK.
They also noted that the virus may mutate in such a way that allows it to evade current vaccines, although this is unlikely.
The emergence of such strains could lead to a return to tighter restrictions and lockdowns, while delivering another huge economic blow to the country.
The scientists suggested the new strain could could be resistant to vaccines if formed from the jab-resistant 'South Africa' Beta variant along with the more transmissible Alpha or Delta variants.