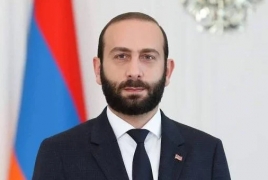 September 3, 2021 - 12:10 AMT
PanARMENIAN.Net - Armenia is interested in deepening cooperation within the Organization for Security Cooperation in Europe (OSCE), Foreign Minister Ararat Mirzoyan told OSCE Secretary General Helga Maria Schmid over the phone on Thursday, September 2.
Mirzoyan noted that Armenia values the role of the OSCE as a regional organization based on the comprehensive and cooperative security concept. He said the Armenian side is interested in deepening the cooperation within the three security dimensions of the OSCE; politico-military, economic and environmental and human. In this regard, the consistency of the programmatic cooperation with the OSCE and its executive bodies, especially within the framework of the Armenia Cooperation Programme was stressed.
The sides weighed in on the situation resulting from the Azerbaijani-Turkish aggression. Mirzoyan emphasized the importance of resuming the Nagorno-Karabakh peace process under the auspices of the OSCE Minsk Group Co-Chairmanship.
The Armenian foreign policy chief also stressed that Yerevan is committed to the establishment of lasting peace in the region, but Azerbaijan's provocative actions, including the infiltration of the Azerbaijani armed forces into the sovereign territory of Armenia, create new hotspots of tensions and undermine regional security and stability.
Azerbaijani forces violated Armenia's border in several sections in the provinces of Syunik and Gegharkunik on May 12 and 13 and are still refusing to withdraw their troops from the area. Since then, almost a dozen Armenian servicemen have been killed in Azerbaijan's shooting, a dozen others have been wounded, while six troops were captured on May 27, although four of them have already returned home.