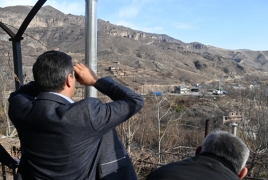 December 3, 2021 - 17:50 AMT
PanARMENIAN.Net - The staff of Human Rights Defender Arman Tatoyan have carried out fact-finding work in the border communities of Syunik, which currently experience difficulties in terms of transport communication.
The Armenian authorities are now building alternative roads for said communities because the Azerbaijani military deployed on an interstate road passing through pockets of Baku-controlled territories hamper the movement of Armenian vehicles.
The road is impassable for light (non-SUV) vehicles, Tatoyan said in a statement on Friday, December 3. A transport route with an all-terrain Ural vehicle has been established to transport residents from village to village.
"The transportation, although very punctual, is not sufficient, since its schedule (serving 3 villages) and the fact that the road is difficult to cross does not provide the people the opportunity to meet their everyday needs, and to organize their transportation until the evening. Thus, people are facing increasingly big problems," the Ombudsman said.
"Firstly, there are issues related to the right to health care and access to medical care. In Vorotan, for example, residents have appointments at medical institutions, but are unable to reach on time since the schedule of the transportation does not correspond with their appointments and the fact that the road is hard to cross.
"There are also issues related to access to urgent medical care. These issues are relevant since older persons and persons with disabilities also live in these communities, whose health care especially requires urgent response, prompt delivery of medications and, when necessary, prompt hospitalization. Incidents are registered where are not able to attend their medical check-ups as a result of the obstacles created by the alternative road. These issues are registered on Shurnukh, Bardzravan, and Vorotan. The accessibility of urgent medical care is significantly problematic."