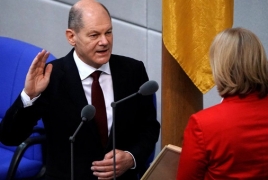 December 8, 2021 - 15:30 AMT
PanARMENIAN.Net - Olaf Scholz has been sworn in as Germany's new chancellor, bringing to an end Angela Merkel's historic 16 years as leader, the BBC reports.
He was voted in by the German parliament, where his three-party coalition has a substantial majority, and given a standing ovation. His centre-left Social Democrats will govern alongside the Greens and the business-friendly Free Democrats.
The handover of power marks an end to Merkel's 31-year political career.
Scholz, a soft-spoken 63-year-old, steered the Social Democrats to election victory in late September, positioning himself as the continuity candidate because he played a key role in the Merkel government as vice-chancellor.
The German parliament, the Bundestag, backed his appointment by 395 votes to 303, and he was then formally appointed as the ninth federal chancellor by President Frank-Walter Steinmeier.
After the vote in parliament, he was asked by Bundestag President Bärbel Bas whether he accepted the appointment. He posted his response - "I said 'yes'" - on his Twitter feed.