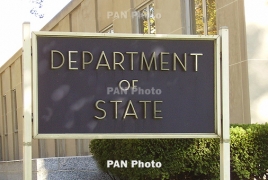 March 10, 2022 - 15:25 AMT
PanARMENIAN.Net - The United States has denied Russian claims that Washington is operating biowarfare laboratories in Ukraine, calling the allegations "preposterous" and warning that Moscow might seek to use chemical or biological weapons during its ongoing offensive on its neighboring country, Al Jazeera reports.
The U.S. denial on Wednesday, March 9 came hours after Russia renewed its accusations that Washington was working with Kyiv to develop biological weapons in the vicinity of the Ukraine-Russia border.
Jen Psaki, White House Press Secretary, called the Russian claim "preposterous" in a series of posts on Twitter and said it was Moscow "that has a long and well-documented track record of using chemical weapons".
These included the "attempted assassinations and poisoning of" Russian President Vladimir Putin's political enemies like the Russian opposition leader, Alexei Navalny, she said.
Now that Russia has made these claims, she added, "We should all be on the lookout for Russia to possibly use chemical or biological weapons in Ukraine, or to create a false flag operation using them."
The U.S. Department of State and the Pentagon, as well as Ukraine have also denounced the Russian claims.
Ukraine has previously said it, like many other countries, has public health laboratories researching how to mitigate the threats of dangerous diseases affecting both animals and humans.
Those laboratories have received support from the US, European Union and the World Health Organization, while the Pentagon's Biological Threat Reduction Program has also been working with the Ukrainian government to ensure the security of pathogens and toxins stored in the laboratories.